Lu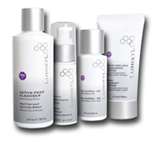 mixyl is the hottest new non-toxic, non-irritating peptide of naturally occurring amino acids that targets discoloration and dark spots on the surface of the skin and improves the appearance of any hyperpigmentation safely and effectively.
Preliminary clinical results are being evaluated in large confirmatory trials and demonstrate that topical use of Lumixyl visibly improves mild to moderate hyperpigmentation with excellent volunteer satisfaction in as little as 8 weeks with a 50% improvement after 16 weeks.
Lumixyl is the only skin brightening system offer all of the following benefits in a single product: non-irritating or allergenic, non-toxic, safe for all skin types, safe for prolonged use, easily degraded by the skin, will not increase skin's sensitivity to the sun, stabilized so that it will not lose potency or turn brown after opening, a luxurious, moisture-rich texture.